The Australian Department of Home Affairs holds the Skill Select rounds of pr invitations each month in order to invite the most skilled, in demand professionals to Australia. These potential migrants are invited based on their skills, education, English language skills and age. The pr invitation rounds are expected on the 11th of each month but dates are subject to change. The number of invites in each round of course depends on applications being processed by the department and vary on month to month basis. 
In this month's pr invitation round i.e. June 2019, let us have a detailed look on which professions were most in demand (had highest number of invites). In this month's invitation round we also saw somewhat similar trends like those of May 2019, which means a total of 110 invitations were issued in Skill Select invitation round held on June 11, 2019. For Skilled Regional (Provisional) visa sub-class 489, the number of invited were 10 only. Which is quite a large decrease from the number of invites we used to witness in the past. 
Similarly, the trends of pr invitation rounds for the Skilled Independent Visa (sub-class 189) also saw constraints with only 100 invitations being issued for visa subclass 189. This has left many international students who are currently studying in Australia in the hope for PR and those temporary workers including those Graduate Trainee Visa in the perplexing situations about the future of the Australian dream. 
Let us further break down the Skilled Independent Visa sub-class 189 data for our readers. 59 pr invitations were sent to those prospective applicants who had minimum 85 points, 22 invitations went to the clients with 90 points and 0nly 18 were sent to those applicants who had a remarkable score of 95 while only 1 was sent to someone having 105 points. With regards to the Skilled Regional (provisional) visa sub-class 489, all the pr invitations were issued to applicants having minimum 90 points. 
The above-mentioned points score has seen a whopping increase in their limits for example accountants were invited at a staggering 95 points. In addition to this, let us also add in that the Skill Select invitation first allocates the available slots to Skilled – Independent visa (sub-class 189) and then allocates the remaining Skilled – Regional (Provisional) visas to the sub-class 489. Also, if all the slots have been utilized by the Skilled Independent Visa, then in that round there will not be any invites for the sub-class 489. 
Find below the chart that details the breakdown of the number of invites and skilled visa corresponding to them with number of cut-off points.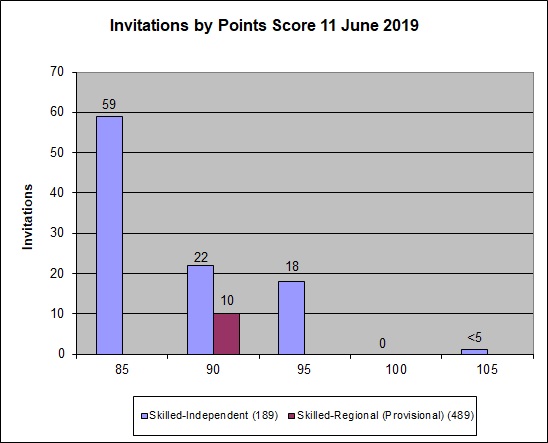 In order to further gain assistance regarding partner visa procedures and if you want free one-on-one consultations, Vision Consultants Australia (education agent, migration agent) can provide expert education and migration consultancy and visa services. 
Get Experts' assistance at Vision Consultants to assist you with your application.  Contact us today.
Email: info@visionaus.com.au
Phone: 03 9939 0545
Are you looking for AAT legal services? We have got you covered. Vision Consultants Australia is here to support you! Contact our education consultants Melbourne today for change course Australia.